When I was a kid...I was never afraid to trust : Jessica from Over Thinking
Today I'd love to introduce you to Jessica from
Over Thinking
. If you read her blog, you'll know that this girl is such a sweet and kind person. Not to mention that she's also generous and pretty (
do you notice? I think Kristen Stewart is her doppelganger
). She was home-schooled before she went to college. After graduated from college, now she works as a photographer for bones. She's an x-ray technologist and she's only 21! I'm amazed by her achievement in her life in such a young age.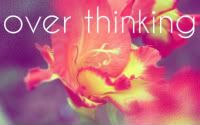 *************************
Hello, dear readers of Read My Mind! My name is Jessica and I blog right around the corner at Over Thinking. I am so very happy to be guest posting for Niken's When I Was A Kid series! It's my first attempt at guest posting, so here goes nothing!
When I was a kid, my perception of the world was COMPLETELY different. I thought everyone was a generally good person. I thought everyone was as innocent as I was. I was without fear. I wasn't necessarily a dare devil, by any means. But I didn't over think situations as I do today. I would just jump right in, no contemplation whatsoever.
Life is so very different today than I ever imagined it would be. As a kid, I loved playing house. I would play as several different occupations including but not limited to - stay at home mom, cashier (this was my favorite!) marine biologist (yeah...I liked dolphins.), nurse, waitress, doctor, talk show host, and preacher(even though that was greatly frowned upon by my extremely uptight Southern Baptist family). I never ever thought I would be a radiographer. The thought of taking x-rays NEVER crossed my mind.
I just knew at age 7, that by the time I was 21, I would be married or at least engaged. I always pictured having a dog, which me and my boyfriend would take on long walks together. (I know...I know. Most kids dream of being a princess or famous actress and I wanted a pup, a boyfriend, and a job at Wal-Mart. Don't hate! My dreams were at least semi-realistic!) Funny that I'm 21 and have neither a dog or a boyfriend.
All this is just to say, life has a funny way of working out. You may think you have your whole life planned out, but if it isn't what God has planned for you, it just won't work. It really is just that simple. God has a specific plan for each and every one of us. It's hard to always know what He wants from us, but I honestly believe that if we pray for His guidance, He will show us in some form what we need to do.
Bottom line, life is tricky. It's hard to develop yourself as an adult, but with God's help, anything is possible. Go to Him when it comes time to making life choices, and you may be surprised by the outcome!
*******************************
Find previous "When I was a kid..." stories here.
If you'd like to participate and be featured in this series, you can send your story and contact me here.
Or you can leave a comment with your email address so I can reach you.
This is the last installment of
"When I was a kid..."
series for the month of August. Get ready for September because I already have some amazing ladies who's gonna share their stories in this series. If you want to share your story too and make some new friends, don't hesitate to contact me. I really would love to have you here. It's a great way to meet new people and make new friends. If you've guest-posted before but you have another story to tell, don't worry. You are most welcome to join again. Have a great day everyone.